Description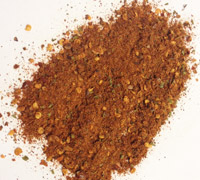 Carne asada is a dish, literally meaning "grilled meat".  Our carne asada seasoning will help you make the most delicious and flavorful carne asada. This grilled meat can be used however you want it, in tacos, burritos, tortas or served alone as a meal.
Make sure to store in a cool, dry, dark location and in an air-tight storage container for best freshness.
Ingredients: Spices, Salt, Garlic, Onion, and less than 2% Silicon Dioxide added to prevent caking.
Carne Asada Seasoning
Bulk Pack (1/4 lb through 5 lb) – packed in a clear plastic food-grade zip lock bag
25 LB Bulk Pack – packed in a food-grade liner inside a box
Bottle Pack – packed in one clear, plastic bottle with a screw-on top
Pail Pack – packed in one plastic pail
Tips when applying as a rub: A rub should coat the surface of the meat so work a rub evenly into to the meat to get the flavor inside as much as possible. If you are applying a rub to poultry try and get it in under the skin so it can better absorb the flavor.  Lightly scoring meat, poultry, and fish will help the rub flavors penetrate further.  Apply your rub at least one hour before you plan to grill.  Large roasts, whole poultry, or briskets should be rubbed down the night before or at least several hours before you plan to grill.  This allows the seasonings to mix with the natural juices of the meat and add as much flavor as possible.