Description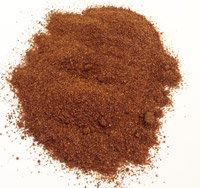 Our Ghost Chili Powder is dry, ground ghost chili pepper.  Bhut Jolokia is the name of the chili pepper.
Recognized in 2007 by the Guinness Book of World Records as the hottest chili pepper on earth, Ghost Chili is EXTREMELY HOT! Please use caution when handling.Ghost Chili Peppers typically range from 855,000 to 1,463,700 heat units on the Scoville scale.
A little goes a long way. Used judiciously, Ghost Chili powder is a great way to add a little heat to your favorite spicy recipes. It works great in chili, salsas, meat, pasta, stir fry, sauce, stews, vegetables and rubs.  But again, please handle Ghost Chili powder with care. Start small and work your way up when adding it to your recipes.  Try making your own homemade ghost chili hot sauce. It is sure to be a hit!
You will often hear Ghost Chili Powder referred to as Bhut Jolokia, ghost pepper, ghost chili pepper, red naga chilli,  Naga Morich of Bangladesh, or ghost chilli.
So how hot is our Ghost Chili Powder? Here is a great comparison: Tabasco sauce ranges from 2,500 to 5,000 Scoville units. A jalapeno pepper measures anywhere from 3,500 to 8,000 Scoville units. A Habanero chili ranges from 100,000 – 350,000 Scoville units.  And a Ghost Chili Pepper ranges over 1 million Scoville Heat Units.  Pretty astonishing.
Make sure to store in a cool, dry, dark location and in an air-tight storage container for best freshness.
WARNING: Make sure to handle our ghost chili powder with extreme caution!
Ghost Chili Powder
Bulk Pack (1/4 lb through 5 lb) – packed in a clear plastic food-grade zip lock bag
25 LB Bulk Pack – packed in a food-grade liner inside a box
Bottle Pack – packed in one clear, plastic bottle with a screw-on top
Pail Pack – packed in one plastic pail
Packaging images