Description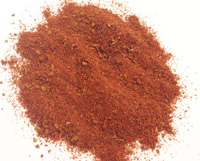 MySpicer Chorizo Seasoning is loaded with real Mexican flavor.  The flavors of this popular gourmet chorizo seasoning blend are perfectly matched. We don't use any artificial colors or flavors in this blend, and you'll notice the difference. Use bulk style in your patties or stuff into hog casings.
Our Chorizo Seasoning is not just for sausages. You will find that this blend is also great with scrambled eggs wrapped into tortillas.  Also try it with your beans and soups. It will provide outstanding flavor with an authentic spicy kick! Try it in other foods like tacos, sopes, frijoles charros, chiles rellenos or any of your other favorite recipes.
Make sure to store in a cool, dry, dark location and in an air-tight storage container for best freshness.
Ingredients: Chimayo Chili Pepper, Spices, Salt, and Dehydrated Garlic.
Chorizo Seasoning
Bulk Pack (1/4 lb through 5 lb) – packed in a clear plastic food-grade zip lock bag
25 LB Bulk Pack – packed in a food-grade liner inside a box
Bottle Pack – packed in one clear, plastic bottle with a screw-on top
Pail Pack – packed in one plastic pail