Description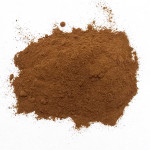 Saigon Cinnamon, also known as Vietnamese Cinnamon is a very concentrated, intense and warm type of cinnamon. You can use this cinnamon the same as you would in any recipe requiring "regular cinnamon." Some might say this is an upgrade from regular cinnamon because it has a sweeter taste and is less grainy than traditional cinnamon. This ground, the reddish-brown spice produces a sweet, pungent, woody flavor and aroma.
What makes Saigon cinnamon different from MySpicer ground cinnamon is that is has 5% volatile oil content which makes it more intense and flavorful. Volatile oils are what give spices their flavor.  Our regular ground cinnamon has 2.5% volatile oil content.
Make sure to store in a cool, dry, dark location 55 – 70°F and maximum relative humidity of 70%, and in an air-tight storage container for best freshness.
Also try our regular ground cinnamon
Saigon Cinnamon
Bulk Pack (1 lb and 5 lb) – packed in a clear plastic food-grade zip lock bag
25 LB Bulk Pack – packed in a food-grade liner inside a box
Bottle Pack – packed in one clear, plastic bottle with a screw-on top
Pail Pack – packed in one plastic pail
Packaging images