MySpicer.com is a division of the Rocky Mountain Spice Company, an organization that provides a wide variety of products to the food service industry. RMSC's wholesale and bulk products and spices include:
Meat and sausage seasonings
Rubs and toppings
Marinades
Pumps, injections, cures, and natural curing processes
Drink mixes such as cocoa mixes, tea mixes, lemonade mixes and other flavored drinks
Mixes for sauces,  salad dressings,  barbeque, pizza seasonings, and dough mixes
Batters, breadings, and stuffings
Snack food seasonings
Bulk seasonings and ingredients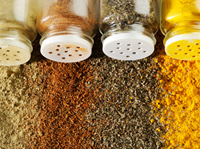 In 2000, after many requests by the general public to have access to our high quality, gourmet spices, herbs, and seasonings, we launched MySpicer.com.  We are located near the Rocky Mountains in Denver, Colorado but we source the finest ingredients from all over the world to provide the most pungent and flavorful products. MySpicer.com and Rocky Mountain Spice Company are leaders in natural and organic productions. In addition, most of our products are Kosher and Gluten Free.
Customer Service
We are not just a website, our live customer service team is dedicated to providing quick and accurate information regarding products, availability and delivery.
Technical Expertise
Because MySpicer.com is a division of the Rocky Mountain Spice Company, customers have the advantage of purchasing products developed by the best in the business. We have assembled a nationally renowned Research & Development team. Our unique relationships with industry leaders and ingredient manufacturers enables our group to offer innovative products.
Extensive Product Selection
MySpicer.com currently offers over 2,600 SKU's on our website and we are adding new dried spices, seasonings, herbs and other products all the time.   You have access to our wholesale herbs and spices at discounted prices. Our huge offering includes: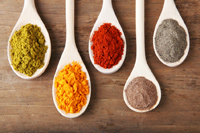 Fresh Spices, Herbs & Seasonings
Our spices are packaged fresh daily. Spices from the grocery store have been sitting in a container for months and moved from warehouse to shelf. You order your spices from us and we package these fresh daily at the time of your order. All of our spices are shipped to you in food grade bags or air tight pails and containers to help maintain freshness.
Versatile Packaging
Our packaging equipment enables us to pack as little as 1/2 oz. or as much as 50 lbs. Our capabilities include bags, bottles, labeling and case packaging. With so many options, we are certain to have the size that best fits your needs. Read More about our packaging options.
Food Safety & Quality Assurance
Our full time Quality Control staff helps us achieve and maintain the highest quality standards. Our inspected programs include:
Third Party Audit program
HACCP
Allergen Program
FDA compliance
Recall Program
Sample Retention
Metal detector
GMP > good manufacturing practices
Kosher certified by VaadHakashrus of Denver, Scroll K
Custom Blending
We provide custom blending for the food service and food manufacturing industry and we can blend any amount starting at 500 lbs. to a truckload of your proprietary formulas. Please contact us if you would like to pursue custom blending and packaging.
We stand behind our products and our dedicated team of employees work hard to ensure you are completely satisfied.