Free Shipping Offer on orders totaling $150 or more
For a limited time, enjoy free shipping on all orders totaling $150 or more. Elevate your shopping experience as you browse through our wide selection of products, from herbs, spices, blends and everything in between. Unlock the freedom to indulge in your favorite items while we take care of the standard shipping costs. It's our way of enhancing your satisfaction and ensuring that your purchases arrive at your doorstep without any extra hassle. Shop more, save more, and let us bring your desired products right to your door, completely free on orders over $150.
Delivery Times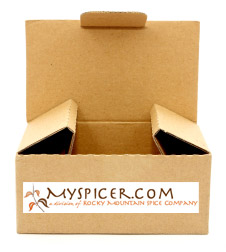 Our website is open 24/7 so that you may order when it is most convenient for you.  Please keep in mind that your orders will always be processed during our normal business hours (Monday – Friday, 8:00 AM to 5:00 PM Mountain Time). All orders will be processed within 1-3 days. Please allow 3-8 days for delivery. Please allow extra shipping time for orders that are placed over the weekend or on holidays because they are processed the following business day.
Shipping Carrier
We ship our products via UPS standard ground service.  We also offer UPS ground and 3 day select options.  UPS can't ship to a PO box so make sure to provide a physical shipping address on your order.
Shipping Locations
We ship anywhere within the United States, including Hawaii, Alaska, Puerto Rico, and the US Virgin Islands. We do not ship outside the United States and are unable to make exceptions.
Shipping Cost
MySpicer charges you our UPS negotiated rates for shipping plus a small handling fee (usually $1 – $2). We do not mark-up your shipment or treat shipping as a profit center. We offer extremely competitive pricing on our products and don't mark-up these so we can cover shipping costs to offer you "free" shipping. Simply put, we charge you what we get charged for shipping.
If you have an urgent shipping request or need something right away please give us a call at 303-308-8066 and we will do our best to help!