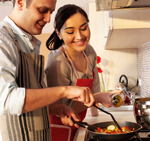 MySpicer.com offers a variety of packaging sizes for our bulk herbs, spices and seasonings. With so many options, we are certain to have the size that best fits your needs.
Our standard products are shipping in bulk bags:
Bulk Pack is packed in a clear plastic food-grade zip lock bag.  The 25 LB Bulk Pack is packed in a food-grade liner inside a box.
We also offer plastic bottle and pail pack options for your storage convenience:
Small Bottle, Large Bottle and Pail Pack
Our packaging equipment enables us to pack as little as 1/2 oz. or as much as 50 lbs. Our capabilities include bags, bottles, labeling and case packaging.
Containers
Looking for a way to store your spices? We have spice containers in varying shapes and sizes to meet all of your needs. Create your own labels for home use or use these containers and create your own brand and labels for your personal blends.
Glass jar with grinder top
Square metal tins
5.5 fl oz bottles
8 fl oz bottles
16 fl oz bottles
32 fl oz bottles
160 fl oz bottles
Food grade bags
food grade pails
---
Delicious herbs, spices and seasonings
You will love the spices, herbs, seasonings and blends from MySpicer.com. We offer a HUGE selection of fresh spices, herbs and dried chilies. We sell dehydrated vegetables and delicious house blends. Try our mushrooms, baking ingredients, seasonings, and gluten free products.
Buy Spices Online
We offer thousands of bulk spices and herbs
We offer smaller quantities on almost all products
We offer delicious wholesale baking ingredients
We inventory a large selection of flavorful dried spices
We are the leading provider of wholesale spices, herbs and seasonings