Description
This crab shrimp boil seasoning always brings the senses to the seashores of the East Coast. Crab Boil is an ingredient that can be found in almost anything seafood. Besides being perfect for Shrimp and Crab Boils, try it sparingly in your Seafood Soups, Sauces, and Marinades.
Our Crab boil is a delicious combination of spices and ingredients blended to perfection.  It will add perfect flavor to any boiled seafood recipe.  Our crab boil has just the right amount of cayenne pepper to give it a subtle, spicy kick.
Crab boil is also referred to as shrimp boil or fish boil.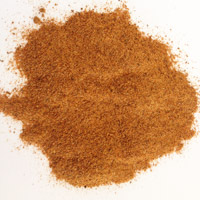 Ingredients: Celery Salt, Paprika, Colman's Mustard, Black Pepper, Bay Leaf, Cloves, Ginger, Mace, Celery Seed, Cinnamon, and Cayenne Pepper.
Make sure to store in a cool, dry, dark location and in an air-tight storage container for best freshness.
Also try our Blackening Seafood Seasoning
Crab Shrimp Boil Seasoning
Bulk Pack (1/4 lb through 5 lb) – packed in a clear plastic food-grade zip lock bag
25 LB Bulk Pack – packed in a food-grade liner inside a box
Bottle Pack – packed in one clear, plastic bottle with a screw-on top
Pail Pack – packed in one plastic pail
Packaging images