Description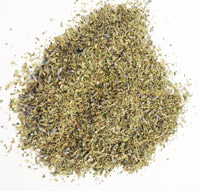 Our Herbs de Provence blend is derived from herbs, which thrive in the sunny hills of Southern France. You can use this blend in almost any Mediterranean dish, soup, or stew. Use this blend in marinades, vinaigrettes, and with vegetable dishes. This blend also complements roast poultry very well.
Adding Herbes de Provence creates a wonderful enhancement to your grilled foods.  They add a delicious flavor to fish and meat, as well as vegetable stews.  Herbs de Provence should added to your dishes before or during cooking.  They can also be combined with cooking oil to help infuse the flavor into your meal.  Just brush the oil mixture over meats before cooking or grilling.
Ingredients: French Thyme, Rosemary, Savory, Oregano, Marjoram, Chervil, and Lavender Flowers.
Make sure to store in a cool, dry, dark location and in an air-tight storage container for best freshness.
Herbs de Provence
Bulk Pack – packed in a clear plastic food-grade zip lock bag
25 LB Bulk Pack – packed in a food-grade liner inside a box
Bottle Pack – packed in one clear, plastic bottle with a screw-on top
Pail Pack – packed in one plastic pail