Description
As a classic, Italian Seasoning has become a staple blend in every kitchen.  Bring the authentic taste of Italy with traditional Italian flavor to your dishes with this versatile and delicious seasoning. Use this blend in sauces, marinades, and soups. Our Seasoning can be used on croutons, garlic bread, and in pastas. Mix this blend with vinaigrette salad dressings for a special taste. This Seasoning will brighten up the flavor of a frozen pizza.  Add it to any pasta dishes, or season meats with this great flavor before grilling. Mix a bit of our Italian Seasoning with softened butter and garlic and spread on toasted bread.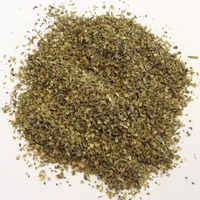 For a spicier flavor, try our Zesty Italian Seasoning.
Make sure to store in a cool, dry, dark location and in an air-tight storage container for best freshness.
Ingredients: Mediterranean Oregano, Sweet Basil, Imported Thyme, Rosemary, Cut & Sifted, Marjoram.
Italian Seasoning
Bulk Pack – packed in a clear plastic food-grade zip lock bag
25 LB Bulk Pack – packed in a food-grade liner inside a box
Bottle Pack – packed in one clear, plastic bottle with a screw-on top
Pail Pack – packed in one plastic pail