Description
The sweet, warm, and fresh flavor of nutmeg will tempt the senses. It works well with rich foods and also in many desserts.  Whole nutmeg is a very popular alternative to ground nutmeg. Once you start grating your own fresh nutmeg you may never go back to ground nutmeg.  It has a wonderful aroma and is stronger and more potent than ground nutmeg.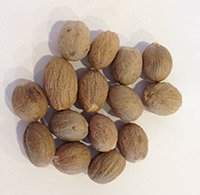 In order to use whole nutmeg, you will need to own a nutmeg grinder or a Microplane. A good, solid, Microplane is inexpensive to buy, easy to use and allows you to have fresh, ground nutmeg each time you need to use it.
Also try our Ground Nutmeg.
Make sure to store in a cool, dry, dark location and in an air-tight storage container for best freshness.
Whole Nutmeg
Bulk Pack – packed in a clear plastic food-grade zip lock bag
25 LB Bulk Pack – packed in a food-grade liner inside a box
Bottle Pack – packed in one clear, plastic bottle with a screw-on top
Pail Pack – packed in one plastic pail