Description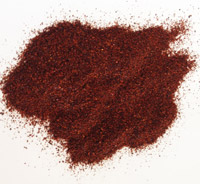 Chili powder differs from chile pepper in that it has been blended with spices as well. Our dark chili powder has the addition of cumin, garlic, onion, and other spices to make this blend perfect for not only chili, but also anything with a southwestern flavor.
Our dark chili powder has a deep color and is rich in flavor. Use it in your Mexican dishes or season your chicken wings, hamburgers and beef. Sprinkle our chili powder along with shredded cheddar cheese and melt with tortilla chips to make nachos.
This product is sometimes referred to as chile powder, chile powder seasoning, or chili pepper seasoning.
Also try our Light Chili Powder and our El Toro Chili Powder.
Make sure to store in a cool, dry, dark location and in an air-tight storage container for best freshness.
Ingredients: Chili Pepper, Spices, Salt, Garlic and < 2 % Silicon Dioxide (to prevent caking and Ethoxyquin (anti-oxidant)
Dark Chili Powder
Bulk Pack – packed in a clear plastic food-grade zip lock bag
25 LB Bulk Pack – packed in a food-grade liner inside a box
Bottle Pack – packed in one clear, plastic bottle with a screw-on top
Pail Pack – packed in one plastic pail
Packaging images