Description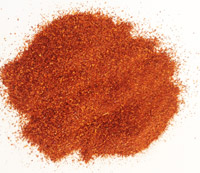 Our El Toro Chili Powder is a delicious blend of chili pepper, salt, garlic and other spices. We don't use any artificial colors or flavors in this (or any) blend, and you'll notice the difference.
This chili powder will add some extra pizazz to any recipe.  With just the right amount of heat, you will find yourself using our El Toro Chili Powder on just about everything!
Also try our Light Chili Powder and our Dark Chili Powder.
Make sure to store in a cool, dry, dark location and in an air-tight storage container for best freshness.
Ingredients: Chili Pepper, Salt, Spices, Garlic.
El Toro Chili Powder
Bulk Pack (1/4 lb through 5 lb) – packed in a clear plastic food-grade zip lock bag
25 LB Bulk Pack – packed in a food-grade liner inside a box
Bottle Pack – packed in one clear, plastic bottle with a screw-on top
Pail Pack – packed in one plastic pail
Packaging images