Description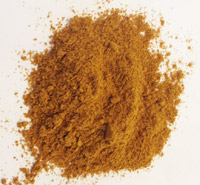 Curry powder has many uses and can be added to help flavor soups and stews. It is great at adding flavor to all kinds of sauces and marinades, as well as meatloaf and burgers, and chicken, tuna, pasta and potato salads.  Our mix has a very nice flavor and has the added benefit of having no added salt.
Our curry powder blend is made with the perfect combination of spices.  We don't use any artificial colors or flavors in this blend. You will love it!
Curry is known for its benefits to digestion and for anti-inflammatory qualities. It is also said to boost memory and protect against Alzheimer disease and cancer.
Make sure to store in a cool, dry, dark location and in an air-tight storage container for best freshness.
Ingredients: Spices, Turmeric
Curry Powder No Salt
Bulk Pack (1/4 lb through 5 lb) – packed in a clear plastic food-grade zip lock bag
25 LB Bulk Pack – packed in a food-grade liner inside a box
Bottle Pack – packed in one clear, plastic bottle with a screw-on top
Pail Pack – packed in one plastic pail