Are you looking to make the perfect steak? The secret to this is finding the best time to apply steak seasoning to your favorite cut of steak.
Most steaks are really good all by themselves. Adding the perfect seasoning can make them that much better!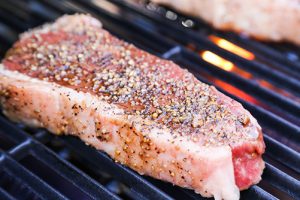 Make sure the steak is dry and not wet before adding your seasoning. You can pat it with a paper towel to dry it off prior to adding your seasoning. Apply the seasoning on both sides of the steak. Use a generous amount, massaging with your hand until the surface of the meat is totally covered. Turn the steak over and apply to the other side. Cover and leave in the refrigerator overnight. If you are short on time, let your steak sit for at least an hour after applying seasoning if you can. Make sure to choose a steak that is thick, at least ¾ inch think. Using a seasoning that includes a coarser salt, such as sea salt, is often preferable for steaks because of the flavor it brings out in the meat.
Try our different MySpicer steak seasoning options:
Steak & Burger Seasoning – a great all-purpose blend that works well as a rub
Mr. T's Steak Seasoning – a robust, coarse seasoning blend that will add a nice textural element to your steak
Canadian Style Steak Seasoning – great option to give you that popular Montreal Steak Spice flavor