Here is a great recipe for a traditional Easter ham.  The spice rub adds a great flavor and everyone will love it!
Brown Sugar and Spice Easter Ham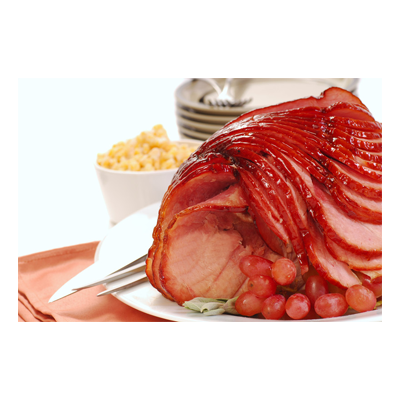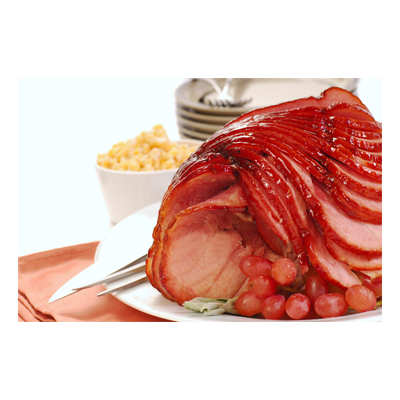 Ingredients
2 tablespoons brown sugar 
1 teaspoon cinnamon (ground)
1/4 teaspoon  allspice (ground)
3/4 teaspoon cumin (ground)
1 teaspoon coriander (ground)
1/2 teaspoon 20 mesh black pepper
1 (5-pound) bone-in, fully cooked ham half
Cooking spray
1/4 cup honey
1 tablespoon  orange juice
Preparation
Preheat oven to 350°.
Mix together the brown sugar, cinnamon, allspice, cumin, coriander and pepper to make a dry spice rub.
Trim off the fat and rind from your ham. Use a small sharp knife to cut around the ham in a zig-zag pattern. Run your knife under the rind all the way around the edge of the ham. You can gently lift rind off in one piece by running your fingers between the rind and the fat.
Gently score the ham about 1 cm deep.
Rub the ham evenly with the spice rub you made in step 1. Place the ham on a large pan with the sides and bottom of the pan coated with cooking spray. Cover the top with aluminum foil.
Bake at 350° for 1 hour to 1 ½ hours.
Use a whisk to mix the honey and orange juice in a bowl. Remove the ham from the oven and gently brush this honey mixture over ham.
Bake the ham uncovered for another 30 minutes checking periodically until the inner temperature is 140°.
Let stand 15 minutes before slicing and serving.