Thanksgiving has come and gone, and now many of us move our attention to planning the Christmas feast. Prime Rib is a very popular meal that is served this time of year.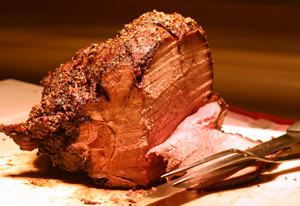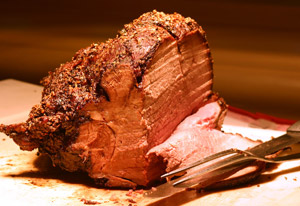 Here are two secrets to help you make the perfect prime rib.
First, purchase a high quality cut of meat
You should not purchase anything less than a three-rib roast. Anything smaller than that is not really a roast but a thick steak and will turn out differently. You should assume two people per rib which means:
six (6) people – three (3) rib roast
eight (8) people – four (4) rib roast
ten (10) people – five (5) rib roast
twelve (12) people – six (6) rib roast
fourteen (14) people – seven (7) rib roast
This is one of the most expensive cuts of meat that you can buy, but even so, make sure to buy a high quality grade.   It is recommended that you select USDA Prime (if you can find it at your retail butcher) or Choice grade.
Second, use on the best herbs and spices in your rib rub.
We of course recommend our Prime Rib Seasoning. This combination of flavors created by out fresh herbs, spices and salt will help you to make the perfect prime rib.
You will get best results if you let the rub sit on the rib for 3 days before cooking so make sure to do some advance planning.
Layer and press the dry rub into the rib, then wrap the entire rib in cheesecloth. Make sure to oil your cheesecloth with vegetable oil. Keep in the refrigerator for 3 days.
To cook your prime rib remove from the refrigerator and let it sit at room temperature for several hours. This helps it to cook evenly.
Cook in the oven at 500 degrees in a roasting pan for 30 minutes. Turn the oven down to 350 degrees and cook according to size. Approximately 2 – 4 hours. When internal temperature reaches 125 degrees you are done cooking. Remove from the oven and let it sit for 30 minutes.   After sitting carve and serve with au jus beef stock drizzled on top.
Now you have made the perfect prime rib!