Description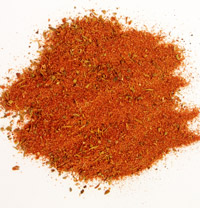 Our Cajun Spice is a classic seasoning that has become a main stay in American kitchens. The flavor combination is perfect for seasoning almost anything. It can be used sparingly to accent soups and sauces or can be used as the dishes main flavor. Try it with your chicken, pork or salmon dishes.  This works great for seasoning your Cajun fries.  You can use it on almost everything like eggs, potatoes, vegetables, rice, tacos and more!
To blacken meats, simply rub the meat with a tiny bit of oil and then dredge the meat in the seasoning. Pan-Sear the seasoned meat in a pre-heated pan.
For a milder version, please try our Blackening Seasoning. For a hotter version, please try our Extra-Hot Cajun Spice.
Make sure to store in a cool, dry, dark location and in an air-tight storage container for best freshness.
Ingredients: Paprika, Spices, Salt, Onion, Garlic, and < 2% Tricalcium Phosphate to prevent caking.
Cajun Spice
Bulk Pack (1 lb and 5 lb) – packed in a clear plastic food-grade zip lock bag
25 LB Bulk Pack – packed in a food-grade liner inside a box
Bottle Pack – packed in one clear, plastic bottle with a screw-on top
Pail Pack – packed in one plastic pail
Packaging images