Description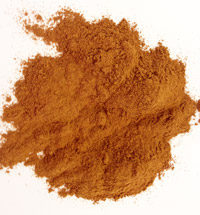 This fragrant, slightly sweet ground cinnamon is mostly used for desserts, breads, and hot drinks in the United States. In other countries, it is used in meat and game dishes, not to make them sweet, but to strengthen their flavors.
Also try our Cinnamon Sticks.
Make sure to store in a cool, dry, dark location and in an air-tight storage container for best freshness.
Ground Cinnamon
Bulk Pack (1/4 lb through 5 lb) – packed in a clear plastic food-grade zip lock bag
25 LB Bulk Pack – packed in a food-grade liner inside a box
Bottle Pack – packed in one clear, plastic bottle with a screw-on top
Pail Pack – packed in one plastic pail
Packaging images
Cinnamon Facts
Cinnamon  comes from the inner bark of several trees from the genus Cinnamomum.  The name "cinnamon" comes from the Greek word kinnámōmon.
Cinnamon is harvested by growing the cinnamon tree for two years, then cutting the tree back to the ground to stimulate growth. The next year, about a dozen shoots will form from the roots.
The branches harvested this way are processed by scraping off the outer bark, then beating the branch evenly with a hammer to loosen the inner bark. The inner bark is then pried out in long rolls. This process creates cinnamon strips that curl into rolls.