Description
Ground Cumin is a must for chili con carne and curry. This warm, pleasant, balsamic flavor is also delicious in meatloaf, sausages, vegetables, cheeses, soups, relishes, and rice.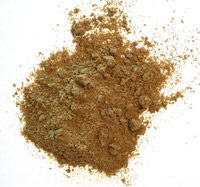 Cumin has a very distinct flavor. It tastes earthy, musky warm and nutty. You will find this spice used in foods from the Middle East, North Africa, India and Mexico.
Also try our Whole Cumin Seeds.
Make sure to store in a cool, dry, dark location and in an air-tight storage container for best freshness.
Ground Cumin
Bulk Pack (1/4 lb through 5 lb) – packed in a clear plastic food-grade zip lock bag
25 LB Bulk Pack – packed in a food-grade liner inside a box
Bottle Pack – packed in one clear, plastic bottle with a screw-on top
Pail Pack – packed in one plastic pail
Packaging images